Let's go back in time to when candy-red appliances, chocolate milkshakes and neon kitchen walls were all the rage. Retro kitchens are making a comeback—and not just in diners. As the retro-modern designs collide, retro kitchens and kitchen appliances are more popular than ever in homes. And if retro and vintage are your vibe, then this style of appliance is for you. 
What is retro?
Retro in its simplest definition is anything at least 20 years old. As we advance in time though, "retro" in many ways still refers to the 50's through the 70's.
The Rising Popularity of Retro Appliances
There are two reasons retro appliances are becoming more popular. The first is design trends and the second is cooking habits.
Since the COVID-19 pandemic, more people are embracing colourful, warm and more "free" styles in their life. The cold lines of "modern" design and all-white-and-stainless-everything rooms are fading into an old trend. Creamy neutrals and pops of color are all the rage again, and what is a more fun way to embrace this than in your kitchen? Especially now that we're spending more time than ever in our kitchens. 
In fact, Americans over the age of 18 are cooking at home more often than ever before. More than half of Americans cook at home 5+ days a week instead of going out. We spend more than 400 hours a year in our kitchens — the equivalent of 16 and a half days – per person! So, if we're going to bring something fun and colorful into our daily lives, adding it to your kitchen is a great option.
What is a retro kitchen appliance?
Retro kitchen appliances can be identified by their:
Smooth curves
Bright color pallets
Unique color schemes like pastels
Chrome accents
When you think of a 60's diner with the checkered floor tiles and bright red chairs, that's retro.
Believe it or not, but these designs are 100% available for kitchen appliances! Specialty appliance manufacturers like Elmira Stove Works build retro appliances with all kinds of unique customizable options.
Traditional retro kitchen color pallets
The most common retro kitchen color pallets are both bright, bold colors like red and yellow, and in pastels like mint, pink or powder blue. At Elmira, you can get your retro appliances in colors like:
Candy red
Buttercup yellow
Robin's egg blue
Tropical blue
Mint green
These colors are available in all the appliances — microwaves, refrigerators, stoves and dishwashers — so you can mix and match, or have them all be the same.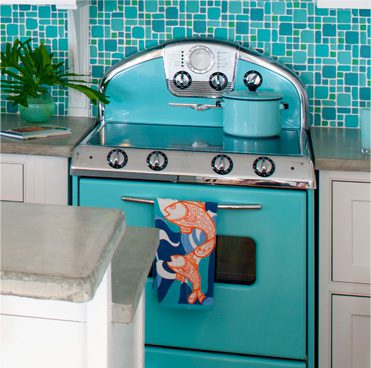 This pop of color is great for a home kitchen, beach house, cottage or any other cooking space. These colors all fit the traditional retro vibe.
Modern retro kitchen appliances
Companies like Elmira Stove Works have their retro appliances in more neutral colors so you can bring a touch of retro to a more modern space. The Little White Farmhouse is a perfect example of this. Kaley's Northstar double-door retro fridge is in the bisque color and fits perfectly in her farmhouse-chic kitchen. 
Flat black, white and bisque help give these retro pieces a more diverse use. Even the most modern of houses can benefit from the chrome accents and slick curves of a Northstar appliance, even if the color isn't bright.
Northstar Appliances by Elmira Stove Works
Elmira Stove Works is notorious for their retro kitchen appliances. And there's a few things that make Elmira so unique. 
None of their appliances are mass produced.
Each part is hand painted.
There are no assembly lines in their manufacturing plant.
Local Canadian company that partners with dealers across North America
Northstar is the Elmira Stove Works retro line and is their most popular line of appliances.
Blending a retro look with modern conveniences
What Elmira does best with their Northstar retro kitchen appliances is combining the look and feel of the 50's and 60's with modern touches we love today. Self-cleaning true convection ovens, modern-power microwaves, top and bottom freezer refrigerators with optional ice makers and draft beer systems are just a few of the features you can enjoy with Northstar appliances. Plus, they're energy efficient and handmade with love.
By choosing a retro style appliance instead of buying an old one will make sure that you're still getting all these benefits on a piece that will still last you a long time.
Because Northstar was built with your whole kitchen in mind, you don't need to piece together or mix-and-match appliances either. The Northstar line includes microwaves, refrigerators, dishwashers, ranges, hoods and splashbacks. The two more popular appliances are the refrigerators and ranges.
Retro refrigerators
Looking old doesn't need to equal energy consumption. Elmira's Energy Star retro fridges are built for all the modern needs of today's home with the same vibe we love from the 60's. In fact, one of the big appeals of this particular type of retro fridge is that they're full size. You can choose a double door, top or bottom freezer — all depending on your particular need and preference.
Retro stoves
Again, Elmira goes above and beyond with their retro ranges and stoves. Northstar ranges are available with either gas or electric elements, so you can cook the way you want. The convection oven has a self-cleaning feature and halogen lights so you can watch your cookies bake. It truly has all the benefits of other modern stoves, but it looks way better.
Building a show-shopping retro kitchen
Aside from getting your appliances right, you can really set the tone with your accents and accessories. Black and white flooring, checkerboard tablecloths, and bright dishes can help build your space.
Look to add pops of color where you can, like in your dish towels, seating, lights, and anywhere else you can think of.
Retro Kitchen Appliances: They Never Go Out Of Style
If you're in love with a retro kitchen, you're definitely not alone. Hopefully you feel confident on what a retro kitchen looks like, how you can use retro appliances to build your dream kitchen, and what the best option is for buying retro appliances.
Learn more about Northstar and contact the Elmira Stove Works team today to learn more about buying your dream appliances.